Are you looking for reliable, competent and hard-working moving contractors to handle your rapidly approaching house removal? If you are, then by all means give us a call because you won't find better and more accomplished man with a van technicians than us in Chipping Barnet, EN5. We dare make this bold statement because we are fully aware that we are presently the most acclaimed movers in the area and we have a long list of positive customer testimonials to prove our claim.
Fully prepared moving technicians
We can easily and efficiently handle even the most demanding and time sensitive Chipping Barnet house removals projects due to the fact that we have invested into the best packing and lifting instruments. We also have a crew of skilled and properly trained packers, carriers and drivers who will carry out your relocation from start to end without any complications and costly delays. You should know that our main focus is on safety and your satisfaction, so you can rest assured that we will go beyond our way to haul your belongings in a safe and timely manner.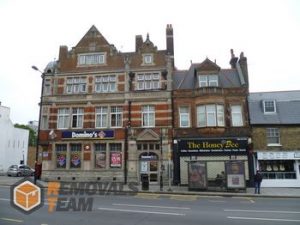 Our domestic removal services in Chipping Barnet, EN5 are fully insured. We have done so, not because we doubt the quality of our moving options or the abilities of our man and van technicians but because:
We are responsible contractors who want to have all angles covered
We want to give you the comfort of mind that you will get reimbursed in the case of an unwanted event
We believe that being insured is essential for a successful business
We want you to know that to date we have never had any accident of any kind during the execution of a house removal. We have attained this achievement by always turning immense attention to all the details and double checking everything before we call it a day.
Round the clock availability
You can get in touch with us at any time of the day as we maintain a 24/7 support centre. You can contact our consultants to ask them questions, request household removals tips, demand for additional information or simply ask for your free instant quote.
Everything you need for your upcoming relocation
If you are thinking of moving to a new house and have limited free time, make sure you find a local professional company, which can cover all your needs from A to Z. We, at Removals Team, are on your services seven days per week in the Chipping Barnet, EN5 area. What makes us stand out from the crowd is the variety of services we offer, combined with a proper planning and timely execution of each and every moving job. In addition, we can handle your rubbish and sanitise your property prior moving out or at any other given moment.
We are based in the area of Chipping Barnet, EN5 which is also known as High Barnet or just Barnet. It lies in the northernmost parts of London and is one of the many district which form the Borough of Barnet. The intersection of Charing Cross is located at exactly ten miles from the area. The district has an estimate population of over 100.000 people and is one of the city's most populous suburbs.
As mentioned above, you can find us in Chipping Barnet – an area that is popular with its combination of urban and country living options. No matter whether you enjoy going to restaurants, playing tennis outdoors or shopping, you've got it all there. What is more, Chipping Barnet also hosts different events throughout the year, so that there is definitely something to spark your interest there.