You should avoid packing your belongings with questionable materials because this can lead to a number of unwanted temporary or permanent damages which will turn out to be quite costly. If you are moving for the first time or you don't have the necessary time to properly organise your moving project, allow us to help you and provide you top quality packaging materials at affordable prices.
We are professional London contractors doing removals and we are highly acclaimed for offering reliable and flawless packing options. The secret behind the quality of our packaging services is the first grade shielding materials that we use. All the supplies that we offer to our clients have been tested by us during the execution of the property removals in London for which we have been hired. So, you can rest assured that by choosing to purchase your packing materials from us, you are choosing to ensure the safety of your most valuable belongings.
Immense assortment of packing materials
Our selection of shielding products includes:
Traditional cardboard boxes
Double-layered cardboard boxes
Specialised hardtop containers
Custom built wooden crates
Wardrobe boxes
Glass and glassware boxes
Mattress boxes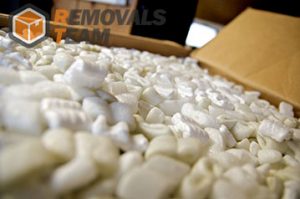 We sell all these materials in different sizes and we can deliver them to you at a day and time that best suits your needs and personal agenda.
We also offer a huge selections of protective gear such as:
Furniture blankets
Cushioned pads
Bubble wrap
Packing peanuts
Protective foam
As we mentioned above we work with cost effective prices offering affordable but top notch packaging supplies to customers in London. So, don't worry that your budget may be too tight for the purchase of our materials, as we promise you that we will find a way to accommodate it and provide you all the item shielding gear that you need to ensure the proper loading, unloading and hauling of your possessions.
We can also help you with your domestic or commercial relocation
If you don't feel confident enough to pack your belonging on your own, by all means don't be timid to hire our aforementioned packing services. Our packers are skilled and seasoned technician and will gladly lend you a hand. Even more, we can go a step further and organise and carry out your entire relocation for you. The choice is entirely yours, we are simply here to serve you to the best of our abilities.
Our moving company is sated in London. The city lies in the southern parts of the United Kingdom and is Britain's capital, largest and most populous city. Regarded as one of Europe's entertainment capitals, London is home to a number of world famous theatres, nightclubs and public houses. The Royal Opera House is arguably England's most prominent entertainment venue. The current building is the third incarnation of the opera house and dates back to the mid-19th century. The first two edifice were destroyed by fire. It has a capacity of over 2.200 seats and stages an abundance of plays and concerts on a regular basis.