Hiring us for your domestic removal is the best decisions that you can make in order to speed-up and ease the execution of your move. We are seasoned and properly equipped man and van technicians and we provide home relocation services of world class quality. Throughout the years we have worked on an abundance of household removals and we have managed to complete all of them without delays and hitches.
We pride ourselves for having put together the best and most accomplished crew of moving specialists in Barnsbury, N1. Our packers work only with the finest protective materials and can meticulously pack anything from large to small items while our carriers can quickly load and unload any amount of goods due to the top notch lifting tools that we have provided them. It is the combination of qualified workers and high quality instruments that permits us to always meet our deadlines regardless of how tight they are.
Best equipped Lorries and Lutons in Barnsbury, N7
Our fleet of removal vehicles comprises of:
Lutons
Trailer trucks
Flatbed trucks
Lorries
With the aid of our vans and trucks we can quickly, efficiently and safely haul your belongings from one site to another. You shouldn't worry about transit related accidents as we have taken all the necessary safety precautions to ensure the wellbeing of your belongings. After all it is not by chance that we are reputed to provide the most reliable and well-organised house removal services in Barnsbury, N7.
Affordable and safe storage services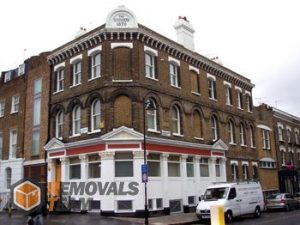 We can also solve all your storage problems if your new household lack the capacity to hold all your belongings. We have a large storehouse with fully equipped cells of difference sizes which you can use to keep your non-essential possessions. We work with affordable prices and we don't require advance notice to rent you one of several of your storage units. However we do demand for a 7 days (14 days from extra-large cells) notification before you vacant your unit/s.
Feel free to browse through our website in order to learn more about our Barnsbury house removal company and the many other services that we provide.
Easy booking, round the clock availability
There are several ways by which you can book our services. You can do that by telephone, e-mail or the online form which we have provide on our company website. Keep in mind that we operate with a flexible agenda which drastically facilitate the hiring process as it allows us to accept same day bookings and carry out late night operations. The latter is much appreciated by our business clients as it means we can conduct their commercial removals in Barnsbury, N1, without disturbing their ongoing operations.
As you have already understood we operate throughout Barnsbury, N1, and its surrounding areas. It lies in the London Borough of Islington in the northern parts of the city. Thornhill Square is perhaps the most noted landmark of the area. Throughout the years numerous notable people such as Samuel Barnett, Rosamund Pike, Su Pollard, Sir Ian Holm and more have lived in Barnsbury.
The district of Barnsbury shares common boundaries with the areas of Highbury from the north, Canonbury from the east, Camden Town from the west and Bloomsbury from the south. It is served by a number of bus routes which pass through the district frequently. The nearest rail links are located in the neigbouring areas, the busiest of which is the Angle Tube Station (c. 20 million passengers per year).