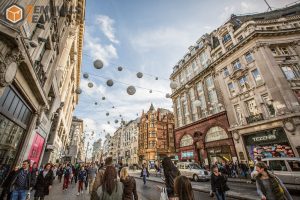 You have not truly been in London if you have not stopped by the Borough of Westminster. Here you can see many of the English capital's most famous landmarks and buildings. Among them are Big Ben, the Palace of Westminster, Hyde Park and Westminster Abbey. Westminster is also home to an exceptional selection of theatres. That is because a great part of the borough is actually made up by London's West End which is known as the city's theatre hub. And while you are exploring this borough which also has a city status, you can treat yourself to a nice shopping spree. In fact, Westminster is one of the best London Boroughs when it comes down to shopping. Some of the best shopping streets are located namely here and include:
Oxford Street
Carnaby Street
Piccadilly
Neal Street
Bond Street
Monmouth Street
Jermyn Street
Floral Street
Regent Street
Westminster is such an excellent shopping destination that you can go to almost any district or area on its territory and still be able to find amazing boutiques, busy markets, large shopping centres or small independent stores.
Westminster's most shopaholic-friendly districts
Covent Garden is certainly the best place for shopping addicts. This districts even has its own shopping streets, lanes and roads and even though it has tourist attractions like the Royal Opera House and Theatre Royal, many people come here mainly for the shopping experience that the area can offer them. If you love shoes, you can start your trip around Covent Garden from Neal Street which is famous for the abundance of shoe stores it has. If, however, you prefer to update your wardrobe with designer clothes, head over to Long Acre where you will find many exclusive boutiques.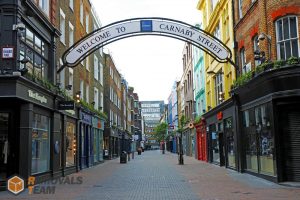 The only other district in Westminster (and probably in London as a whole) that can offer you such an impressive wealth of high-end shopping spots is Knightsbridge. The world's top British and international fashion houses all have boutique stores in this part of the Borough so only the wealthiest of tourists and locals can afford to shop here. That may have something to do with the fact that Knightsbridge's population is made up of a lot of millionaires and billionaires.
And yet, it will be too misleading to say that these two districts in Westminster are all about shopping. In reality, they offer many other things. Knightsbridge has a very desirable residential area which is why you won't have any trouble finding effective removal services in Knightsbridge SW1. And even though this is a very affluent part of London, some of the trained movers here offer quite competitive prices. Similar is the case in Covent Garden, where aside from shopping you can find many theatres and museums. The area is also well served by professional removal services in Covent Garden WC2 so moving home or office here is convenient, safe and efficient.
Niche-oriented shopping spots
Are you looking to buy an antique table or an authentic Chinese souvenir? That won't be hard in Westminster. You just need to know where to head to. Lisson Grove, for example, is London's ultimate antique shopping destination. There are numerous small antique stores scattered all over the district and even an entire antiques markets – Alfie's Antique Market. That is why many artistic and creative people chose to move home in Lisson Grove. If you too feel like doing the same, use local removal services in Lisson Grove NW8. That will help you enjoy lower prices and many generous discounts.
Chinatown is yet another district in Westminster where you can spend some quality time shopping. Since the area is home to a large Chinese community, it has many stores that offer Chinese food and traditional souvenirs. Just like in Lisson Grove, moving house in this area is quite inexpensive. With a little research, you can book a budget-friendly removals service in Chinatown W1 even if you need some last-minute help.
Well, not all areas and districts in the Borough of Westminster are shopping heavens. Aldwych, for example, is known only for its tube station which, by the way, is no longer open. Maida Vale, on the other hand, is an incredibly affluent district but it is so small that it does not have a high street. But even this area offers easy access to trusted removal services in Maida Vale W9.