Moving homes can potentially put you through a lot of pressure. But fortunately there are quite a few things that you can do in order to avoid the most undesirable outcomes of your relocation project – and of course save yourself from the stress, strain and hassle.
Of course, there are common-sense things that need to be taken care of – hiring a certified removal company in London, making sure that all paperwork is in order, deal with your end of tenancy cleaning and so on and so forth. On one hand, finding a reliable domestic mover in Abbey Wood SE2 or skilful domestic removalists in Earls Court – or any other place you will be relocating to for that matter – is not going to be hard. It will definitely help you a lot, but it will not be enough if you want to have all your needs and personal vision about the completion of the project accomplished.
Before you move out – things to consider and others to take care of
When you are relocating to a new place that you do not know very well, you have to do one thing – make sure to research your new area. It is not enough to just find a house or an apartment that you like and can afford. There are other factors that have to be taken in mind such as:
Public transportation
Hospitals and other amenities
Schools and kinder garden (if you have kids)
Pet friendly parks and gardens (if you have or plan on having pets)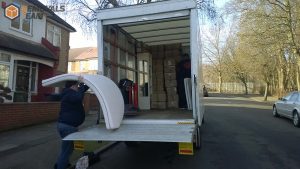 Take a stroll through the neighbourhood just to get the feel of it. If you get a good vibration, then chances are you will not be having problems (or at least, much less problems) feeling at home there.
Another thing that you have to make sure is dealt with before your moving day comes is the arrangements and the execution of your end of tenancy cleaning.  You are more than likely to forget this important task while dealing with everything else connected to your removal, but if you want no problems with the landlord – and get a refund on your rental deposit, you need to get down to it.
And when you arrive at the new place
Now that you have arrived at your new home, and you have started unpacking it is likely that the stress and strain of the whole process of moving finally hits you. Post-removal depression is a real thing, but nonetheless very few people actually expect it or are prepared for it. One of the easiest and efficient ways to get rid of the bad mood is to throw up a housewarming party. Gather all the people whom you love and cherish in one place and let the good vibes soak in your new home. You may consider inviting some of your new neighbours as well, so that you have the chance to get to know them and build more meaningful relationships that will help you get through the tough time.