Your moving date is official and the sooner you start with your moving tasks, the better. Packing is one of the most complex and time-consuming moving tasks. Many people are not thrilled with packing and they waste time by just staring at empty boxes because they don't know where to start or what to do. They need an inspiration to start.
Here are few tips on how to keep your motivation levels high when packing for your removal.
Create a detailed packing plan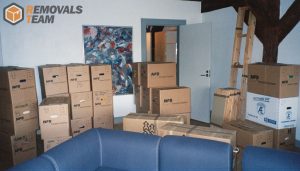 Without a proper packing plan to follow, you will end up walking around your house, inspecting your possessions and not knowing where to start. This feeling can be exhausting and demotivating because you will feel lost and helpless and yet have so many moving tasks to complete. A solution to this problem is simple: create a moving packing plan or a checklist that will lead you step by step from start to finish. The plan will contain details on what to pack first, what room to start with, what to pack last, etc. Creating a moving checklist will inspire you to start with packing and be organized, which is a key to a successful removal.
Start with the toughest rooms
As soon as you find out about your removal, you should start packing. Time is usually underestimated during removal. Every second matters and the sooner you start, the better you will feel knowing you will be done on time. And you should start with the toughest rooms in the house. Declutter and pack your garage, basement and attic first and then move to other, less demanding rooms. Knowing that the most difficult job is behind you will give you more motivation to continue with packing when you start feeling a bit tired.
Decluttering before packing is beneficial
Packing everything you have and moving it into your new house is one of the biggest packing mistakes. And you should avoid it by decluttering and sorting items prior packing. There are many items in your home that are broken or simply lost their purpose. Getting rid of such items is beneficial for several reasons. First, after you declutter, you will have less things to pack and move to your new house. Second, you will save money on packing supplies. And finally, you will also save money on moving those items, because the weight dictates the price. But, perhaps the most important benefit is that your new house will be clutter-free and you will know that all the items in there have their purpose.
Take breaks
Many people feel stressed out when moving and packing and they forget to take breaks and take care of themselves. As soon as you start feeling tired and exhausted, take a little break to energize and rest. You can go out for a dinner after you finish packing the kitchen, or take a walk in the park after you pack the bathroom. It is relevant to take care of yourself during this hectic experience because the main tool in this process-you-has to be in a perfect working condition. Additionally, ask friends for packing assistance.