There are quite a few places that can be mentioned when it comes to areas in the capital that are "nice". But when it comes down to really the best boroughs of London among the 32 currently on the map, there is very little doubt that Camden is residents' and visitors' favourite alike.
The London Borough of Camden is located to the west of Central London, and is comparatively small in size – it covers merely 21.8 square kilometres. In terms of population however Camden ranks pretty high with 246 200 permanent residents. The borough like the rest of modern day metropolitan London was formed after the administrative reforms in 1965.
A place where one can find a ton of amenities and institutions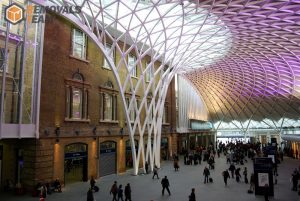 Camden is a great place to live at and visit alike. There is an unusually high number of public and private bodies of very high repute here that may interest tourists of every kind, including:
The British Museum
Central School for Speech and Drama
British Medical Association
London School of Hygiene & Tropical Medicine
University College London
School of Oriental and African Studies
St Pancras Hospital
As you can see if you are looking for iconic views or an interesting place to learn something new, Camden is not going to disappoint you. But there are also quite a few very nice areas where you can rent or buy an apartment and feel very happy at. Let's have a look at them.
Class and comfort for all local residents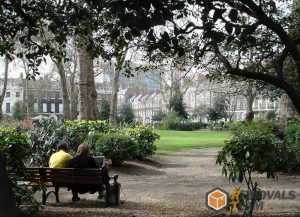 Professional house movers in Bloomsbury WC1 report that there is an increased interest in this particular part of Camden in the past several years. It is located between Euston Road and Holborn. Particularly renowned for the high concentration of healthcare institutions here –  British Medical Association, Great Ormond Street Hospital, the National Hospital for Neurology and Neurosurgery, University College Hospital and the Royal London Hospital for Integrated Medicine among others – Bloomsbury is a fashionable residential area as well. The best places to live in here are developed around the beautiful garden squares that define the architectural character of the district. Mecklenburgh Square is one of the few garden squares in existence that are still locked for exclusive use by local residents. The best Georgian town houses in West London are to be found around Bedford Square. Russell Square is another location that deserves a note.
If you want a really nice place to live in Camden, then you might think about hiring a licensed house removal firm in Dartmouth Park. The district was developed by the Earl of Dartmouth in the 18th century and further expanded in the 19th century. Most of the buildings here are actually remaining from this period – terraced houses and semi-detached ones. Young professionals, families with kids and retired couples alike like Dartmouth Park for being quiet and residential in character exclusively.
And for those looking for a more vibrant environment
Kentish Town NW5 is another fine area that we would like to mention here. The town is located immediately to the north of Camden Central and you probably have seen it numerous times in film and television because it is a very popular filming location, especially when "typical London" is to be depicted. About a Boy, Venus, Bad Behaviour and It Always Rains of Sunday are just a few of the more popular productions that were filmed here. Kentish Town is a vibrant area that will appeal of young people in particular. It has a very strong "pub rock" culture. Performers such as Blur, The Housemartins, Suede, PJ Harvey, and Coldplay have played some of their first big shows namely in the pubs in the area.
And if you are looking for a really touristy and iconic place to settle down at, then you should definitely check out King's Cross WC1. It is known around the world for the local railway station – after all, it played a key role in the Harry Potter series of novels and films. Some of the best places – and most expensive ones – to live in Camden are to be found namely in the vicinity of the railway station.