Domestic removals are quite stressful no matter what is involved in the overall process. One thing is certain though – things become a tad more complicated when there is a child involved. Moving with kids can prove to be quite a challenge, but fortunately there are things that you can do in order to make your life, as well as that of your little one, a tad easier throughout the experience.
The most important step
First and foremost you need to make sure that there is a reliable and efficient professional removals company in London by your side when you are preparing for and carrying out your relocation. Vetted movers can always help you make the process of moving a tad smoother and easier on your kids and yourself too, which is the final goal, after all. There are many other things that you can do too.
Fool-proof strategies for child-friendly relocation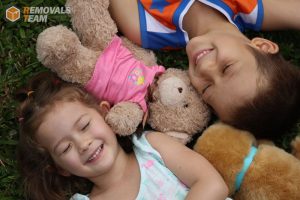 The following strategies have been tested by families on the move countless times. They have stood the test of time and have proven that they produce optimal results in the search for a stress-free domestic relocation with kids, so just try them out:
Get the little ones involved in the process. Moving can be quite stressful, and taking action is the best way to battle stress. So find something that your kids can do in relations to your project. You can entrust them with packing their toys. Or, you can bring them to your new house and let them choose the decoration of their new room. Those are simple things, but they will definitely get them excited about the prospective change and will indeed make them forget about all the things that are bothering them.
Think about hiring childcare services for your moving day. It might sound like an unnecessary expense, but when you come to think of it, you will be paying for the peace of mind that there are professionals who are taking care of your little ones while you are busy with other important staff.
Make sure that all unnecessary junk is out of your property well before your domestic removal. In this way you will be making our packing process much less stressful and strenuous.
Do not wait to have fun once everything is finished. This is particularly true for long distance moves. For example if you are moving from one city to another, chances are that you will be done packing a couple of days before the people from the moving firm arrive, so you can take a day trip and just forget about all the things that are bothering you right now.
Set up play dates with your kid's friends. Let them have as much fun as possible both prior to and after the task of moving is completed. Make the arrangements well in advance so that you are certain it is going to happen.
Have a stock of the little ones' favourite snacks for the road. Nothing can improve their mood more efficiently than a tasty cupcake after all!