Compared to moving home, organising a commercial removal requires the use of bigger moving vans (often more than one), more helping hands and extra packing materials. That is namely why the negative impact that they have on the environment is greater than most domestic removal projects. So, if you are about to move office in London, consider how you can make that in an environmentally-friendly way. Here are some valuable suggestions that will help you get in the right mindset for that.
The importance of being green
Businesses are always looking to move either to a more strategically-located area or to an office that is more affordable… or both. Given that London is home to two of the world's busiest financial districts in the world, the amount of both local and international companies in the English capital is staggering. Therefore, the numerous commercial removal projects in the city result in:
Millions of tons of corporate waste every year
Increased pollution
More harmful greenhouse effect
Inefficient use of natural resources
That is why it is necessary for all businesses operating on the territory of London to plan a green office move whenever they decide they need to change the scenery.
How to organize an eco-friendly office removal
There are many great ways in which you can make your commercial move more eco-friendly without spending an insane amount of money. In fact, some of the relocation hacks and strategies which we are about to offer you may even save you money.
Use recycled packing supplies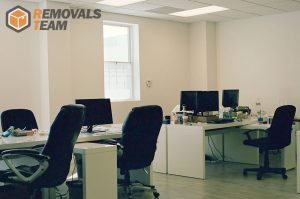 Instead of buying new moving boxes, go to a local grocery store or a warehouse and collect old cardboard boxes which you can use during the relocation. However, make sure the boxes are clean and free of any distinct smells.
If you are adamant on using brand new packing materials, you can simply buy recyclable or recycled supplies. There are many reputable moving companies which offer speedy delivery of packing materials in London. Make the most of opportunities like this one.
Recycle – don't throw
Surely, you are not planning to move the worn-out visitors' chairs or the old computer monitors to your new office. However, do not throw them away. Be more efficient and donate or sell as many of these unwanted items as you possibly can. Give the furniture and the equipment of which you couldn't get rid of to a local recycling facility.
Go paperless
If you still have not moved your business to the cloud, an office removal is an ideal time to do that. Forget about the endless rows of filing cabinets and upload all of your documentation to the cloud. In that way, you will make your relocation lighter. Just don't forget to back up your information.
Choose your ideal moving vehicle
Be careful when picking a moving truck. Smaller vans are cheaper but they won't transport all of your office equipment in one trip. It is always better to hire a larger moving vehicle that will fit if not all at least most of your items.