A big but unfortunately a very common mistake that many people make when moving house is forgetting to label their moving boxes or labelling them in a wrong way. Labelling your boxes properly is important because it will help you unpack them faster and also it will prevent the items in them from breaking during the moving process. So, if you still do not know how to label moving boxes, it is high time for you to learn that skill.
Tools you will need
There are a few things you will need to have in order to label the boxes like a pro. Those include:
The details are also very important here. It is best to have different colours of markers and labels. Also, you can invest two types of tape – clear and coloured. That is especially important if you are planning to rely on the colour-coded labelling system. Also, the materials you use should be of a good quality and to be water and dustproof. Otherwise, by the time the move is over, the labelling and the marking on the boxes may be hard to read.
What you should mark on each box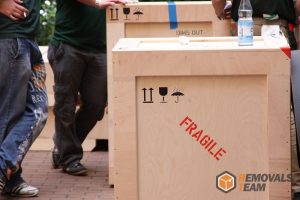 There are four different types of information you should provide on the moving box – a list of its contents, the room in which they will go, the priority of items in the box and additional instructions. The latter should specify the manner in which the box has to be handled. For example, if you have delicate possessions in the box, mark it as fragile and write down which side should always be up. The moving priority of the box can be low, medium and high. Our advice is to mark all essentials and valuable items as high-priority ones so that the movers can deal with them first.
Types of labelling systems you can use
You can use various labelling systems when preparing your belongings for a move. However, the two most popular and most practical ones are colour-coding and numbering. With colour-coding, you can assign a different colour for each room. For example, the items that will go in the kitchen can be labelled with red and those that go in the living room can be blue and so on and so forth. Putting numbers on your moving boxes, on the other hand, will help you prioritize them easily. Also, if some of your boxes go missing, you will quickly be able to notice the problem. If you really want to do the labelling game like a professional, you can rely on these two systems at the same time. However, that will certainly slow down the packing process more or less. Therefore, if you are pressed for time or you don't have the patience for it, you can just use professional packing services. Trained packers do not only have excellent packing skills but they are also exceptionally good at labelling. What is more, they will come to your house bringing all the necessary tools and supplies for the task.