The district of Islington lies in the northern parts of London at about four miles from the junction of Charing Cross. According to the last census, the area is home to a population of 200.000. Islington is also the location of some of the most fascinating edifices in the English capital.
Union Chapel
Designed in the Gothic Revival style by renowned Victorian church architect James Cubitt, Union Chapel is one of London's most famous religious edifices. The church was built from 1874 to 1877 while structural additions were made during the late 19th century. Henry Willis and Sons created its organ in 1877. Since then the musical instrument has been the subject of two restoration projects in 1946 under the supervision of Monk and Gunther, and in 2013, which was executed by Harrison and Harrison. Union Chapel is often used to host musical and comedy events and is identified as a Grade I building.
Ironmonger Row Baths
Opened during the early 1930s and designed by Alfred Cross and Kenneth Cross, the Ironmonger Row Baths are situated on St. Luke's. The edifice comprises of:
Hot rooms
Steam room
Victorian style Turkish bath
Massage slabs
Icy plunge pool
Laundrette
In 2010, the baths were closed for a refurbishment project, which lasted two years. The Ironmonger Row Baths reopened in 2012 and are currently among the most visited tourist attractions in Islington. The complex is classified as a Grade II structure.
Emirates Stadium
The home ground of the Arsenal Football Club was built from 2004 to 2006. International architectural firm Populous designed the stadium. With a maximum capacity of 60.432 spectators, it is presently the third largest football venue in the United Kingdom, after Old Trafford in Manchester and Wembley in London. The stadium is also regularly used to host concerts during the summer. The structure's presence has made Islington one of the most desirable residential areas, especially among Arsenal supports. This is why, more and more people are relocating to the area by using professional removal services in Islington by Removals Team.
Almeida Theatre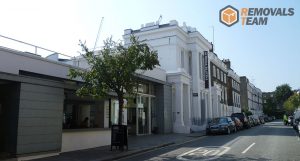 The Almeida Theatre is arguably the most renowned entertained venue in the district. It was designed by Robert Lewis Roumieu and Alexander Dick Gough, and constructed during the 1830s as a library complex with reading rooms. The building was converted into a theatre during the early 1880s and was the subject of a renovation project in 2000. The venue stages a wide range of original dramatic productions, of which the most successful are transferred to West End Theatres. The Almeida Theatre has two levels, which have a combine capacity of 325 seats. The structure is listed as a Grade II edifice.
St. Mary's Church
Officially known as the Church of St. Mary the Virgin, this edifice dates back to the 12th century. The church was rebuilt during the 15th century as the original building was in a decaying condition. St. Mary's Church is recognised as a Grade II edifice.